SH67H7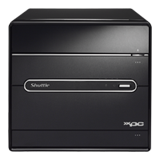 Ace! Get power up with your home entertainment!
The Shuttle XPC Barebone SH67H7 with the new "H7" chassis designed for more intensive tasks than before. It is based on the Intel® H67 chipset and ready for socket 1155 processors of the Intel® Core i7 / i5 / i3 series with an improved integrated graphics engine. Despite its compact dimensions, the SH67H7 still provides room for an additional PCI-Express graphics card, four DDR3 memory slots, HDMI/DVI-I interface, SATA 6G, USB 3.0, Gigabit LAN, 8-channel audio with S/PDIF out and External Serial-ATA. With an 80-PLUS-certified 300W power supply and effective Heatpipe cooling system, the SH67H7 stays well-cooled even under the toughest conditions. This Mini-PC is sleek, stylish, compact and high performing - a status symbol to sit on your desk! What's more, SH67H7 is only available in Australia!
The H7 chassis design with a clean and modern look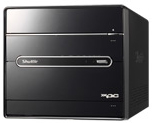 Shuttle has always placed great emphasis on the interior and exterior aesthetics of the XPC, with the belief that a good blend of style and form factor allows the XPC to be attractive, versatile, and work well in almost any environment. The chassis and case cover are made of aluminum and come with a sleek brushed metal front fascia. The drives and front panel connectors are elegantly hidden by drive doors for superior style and visual appeal.
Intel H67 Express Chipset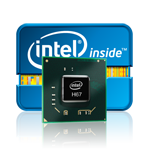 The design of the Core i3/i5/i7 processors will eliminate the need for the traditional Northbridge found on previous generation mainboards. Thus the Shuttle XPC Barebone SH67H7 sports Intel's H67 Express Platform Controller Hub (PCH) from the Intel 6-Series "Cougar Point" family which integrates the hard drive controller, network controllers, monitor and physical interfaces, PCIe links and other input/output functionalities.
Supports Dual-Slot Graphics Cards
Despite the small housing, the SH67H7 is capable of running dual-slot (double-height) PCI Express graphics cards. Please refer to the support list for detailed support information. Note that the integrated graphics will be disabled when using a discrete graphics card.
80 PLUS BRONZE certified Power Supply

The Shuttle XPC Barebone SH67H7 is equipped with a rock stable 300W power supply which has been tested with some of the latest graphics cards and powerful Core i3/i5/i7 processors. Its 80 Plus Bronze logo indicates that it provides more than 82/85/82% of energy efficiency at 20/50/100% of rated load which reduces energy consumption and increases the computer's reliability. In addition, the power supply uses a 50mm cooling fan providing the same airflow, but spins slower than previous 40mm models to make the system run even more quietly.
Small, but easy to install
Shuttle XPCs offer the performance of a desktop PC at a third of the size while using standard desktop components. Shuttle keeps the concept of being "futureproof" in mind when designing the new H7 chassis. The meticulously designed internal layout features pre-routed cables to reduce clutter, increase airflow and make the installation of components easy.
Integrated Cooling Engine (I.C.E.)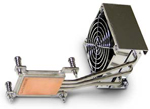 Shuttle XPCs offer the performance of a desktop PC at a third of the size. In order to ensure proper airflow inside such a small case, more advanced cooling technologies have been developed and implemented in the Shuttle XPC. Shuttle's industry-leading I.C.E. heatpipe technology delivers efficient cooling and is exceptionally quiet.
High Definition Multimedia Interface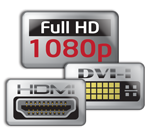 Provides HDMI, DVI-I and Dual Independent Display with full 1080p support to deliver the stunning full HD and 3D graphics for high-end users.