XH270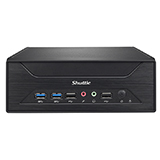 Compact 3-liter XPC slim for up to four Hard Drives
One of the biggest concern about the mini PC is that it usually with less room for expandability, but Shuttle's newly XH270 has presented a new look of supporting up to four 2.5" Hard Drives in compact 3-liter size. The XH270 is equipped with Intel® H270 Express chipset and based on the new 14nm 7th/6th generation Intel® Core™ and Pentium® processors in the LGA1151 package. With Intel® Built-in graphics engine, it is capable of driving three 1080p HD display or dual 4K ultra HD display for high-end graphics capability via HDMI, DisplayPort and VGA interface.The XH270 has plenty of I/O ports and fast storage interface includes 4x USB 2.0, 4x USB 3.0, 1x RS232, 2x Intel Gigabit LAN, 4x SATA 6Gbps and 2x M.2 interfaces. Ready to Intel® Optane™ Memory technology, the XH270 allow users run the system as fast as SSD on HDD maintain its large capacity demand with affordable cost. Combined the features of compact size, expandability and reliable performance, is making the XH270 an ideal solution for modern office desktop, file server, digital signage, surveillance system and other IoT applications.

Support Intel® 6th /7th Generation Core™ Processor
Equipped with the new LGA 1151 socket, the all-new XH270 supports both Intel® 6th/ 7th Generation (Skylake/Kabylake) Core™ i3/i5/i7, Pentium®, and Celeron® 65W processors. Built-in DirectX 12 compatibility with the Intel® HD Graphics significantly increases CPU or GPU.

Equipped with an Intel®H200 series Chipset
With integrated Intel® H270 Chipset, the XH270 supports dual channel DDR4 2400 with up to 64GB memory (16GBx2). It also supports Intel® Gigabit LAN, SATA 6Gbps, and USB3.0 interfaces for superb data transfer speed.

Support Intel® Optane™ Technology
With a 7th Gen Intel® Core™ processor, the XH270 supports the latest Intel® Optane™ technology which makes your overall system performance up to 28% faster to deliver amazing speed.

Support 4K Ultra HD
The XH270 supports 4K high resolution (3840x2160) content playback. Now with four times the resolution of Full HD, viewers can enjoy the super detailed and crystal clear imaging of 4K.

Up to 4x 2.5" HDD in Small box
The XH270 allows up to four 2.5" HDDs installation in 3-liter slim size. With RAID supports, user can easily create a large capacity file server to correspond to different application needs.

Support Triple Display
Display imaging on up to three screens via HDMI, DisplayPort and VGA outputs. User can smooth convey dynamic high-resolution information and targeted promotions.

Support two M.2 expansion slots
The XH270 is built-in one M.2 2280/2260/2242 with Type M and one M.2 2230 with Type A/E slots to install M.2 SSD and a WiFi card or other compatible devices, proving a strong expansion capacity.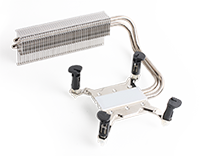 Heat pipe cooling technology
The XH270 features Shuttle's exclusive heat pipe cooling module with smart fan design. The precise vent design allows for constant air circulation between the inside and outside of the machine, resulting in high stability and low noise for long-term operation.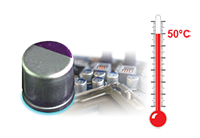 Operable in 0-50⁰C environments
The XH270 uses industrial capacitors in order to meet the environmental operation demands of commercial applications.

Support Intel® Gigabit LAN
The XH270 has built-in two Intel® i211 Gigabit LAN and supports Wake ON LAN and Teaming function to provide high-speed data transfer capability. It also offers a better compatibility for business network environment.

VESA Mount-Ready
The XH270 is VESA mount compliant and allows for versatile integration into hardware systems. This space saving capability is well-suited for digital signage applications with limited space.

24/7 Nonstop Operation
The XH270 is officially approved for 24/7 permanent operation. Thanks to Shuttle's low-power consumption design and provide a stable operating environment, this PC runs highly reliable for long-term demands of digital signage or other vertical applications.

Support Power on by RTC
By entering BIOS to set up the Power on by RTC, XH270 allows user to set a time to boot up the system, which can also be turned on and off with the Windows task scheduler. This feature will benefit on the electricity and energy saving as well as the elimination the cost of on-site service.

The Watchdog—protecting system security
Watchdog Timer provides excellent security protection for systems that need to operate continuously for a long period of time. Use Shuttle's Watch Dog utility to maintain normal operation and stability of the system at all times.
Operating System support
-Windows 10 64bit
-Windows 7 32/64bit (Skylake only)
-Linux